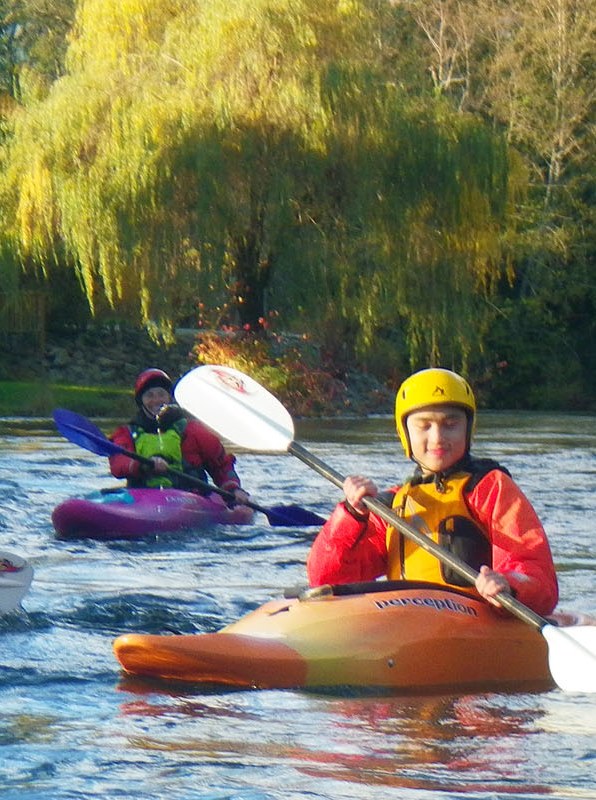 Paddle Canada
Basic River Kayak Skills
2-Day Course
Price: $240 per person
plus tax
Basic River Kayaking Skills
Course Details
This course is designed to introduce you to the fundamentals of kayaking first on flat water and then applying these skills to in moving water It is suitable for people with little or no previous kayaking experience, who are confident in water and willing to get wet. The course has theory components that will cover understanding and reading the river in addition to kayak maneuvering skills. All skills are initially taught on flatwater (non-moving), including rescue techniques. Many of these skills are the building blocks for rolling your kayak, which takes considerable practice to master. We will spend a little time introducing this skill prior to moving onto class 1 moving water on Day 2 of the moving water course but recommend that you take one of our rolling courses or clinics to further develop this skill.

Day 1 Flat Water Skills
This day covers all the components of the Paddle Canada Flat water Skills for river kayaking and can be taken as a stand- alone course (8 hrs) We will take time to complete all paperwork, understand boat design and kayak outfitting, preparing for cold water and appropriate protection clothing and communication signals. Our on - water session will begin with wet exits and Bow – rescues, along with other rescue skills, to provide you with confidence in the water and kayak. This sets you up to develop confidence and enhance your learning of skills and on moving water (day 2). You will learn about balance and posture for paddling, the basic strokes required including: Sweep, forward, backward paddling, edging, low and high braces, draws, rudder strokes – stern draw and stern pry and forward ferry. We will also learn the rudiments of rolling, river trip planning and river hydrology and hazards to avoid.

Day 2 Moving water skills
This day when taken in addition to Day 1 (Flat Water Skills) covers the Paddle Canada Beginner River Kayak Skills Today, we will begin by setting up transportation at out take out location, review river safety, and spend some time transferring the flat water skills learnt on day one for river running, before beginning our journey down an easy flowing section of the river, where we will continue to practice and use all these skills. These include: Ferrying, eddying in and out and an introduction to surfing small waves and leaning to swim and perform rescues in slow moving water.

This course is scheduled for:
December 5-6, 2020
January 9-10, 2021
February 6-7, 2021
March 6-7, 2021
March 20-21, 2021
April 3-4, 2021 (private group-VCKC)
April 17-18, 2021
May 8-9, 2021
June 5-6, 2021
Not seeing the dates you want, please call to schedule custom dates.
Equipment All personal equipment must be in good order and kayaks must have 2 stern flotation bags. (All equipment required for this course can be supplied by us.)

You will need: River kayak with flotation bags
Spray skirt
Helmet (approved for river kayaking)
Paddle
Wetsuit or drysuit (A drysuit may be rented for an additional $25 per day charge and is highly recommended during the Fall and Winter programs).
Booties
Throw Bag
You will also need to bring: snacks, lunch and water.

Waivers will need to be signed prior to starting course and pertinent Medical information will need to be disclosed to course leaders.